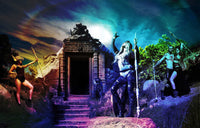 The Healing Art of the Shaman Spears
Each Shaman Spear is uniquely hand-crafted for the purpose of channeling energy. No two are ever made the same. All spears are filled with crystal chips, magnets, and sand collected by the artist from sacred sites around the world. All Shaman Spears are charged and added to an energy collective via the Quantum Touch quantum entanglement method. This means that each healer who owns a spear charges the whole collective and the more spears are made, the stronger the collective becomes. Apolla, the artist/creator charges and adds all spears to the collective with her personal obelisk spear carved out of the Valley of the Kings from Egypt. All fur and leather is faux.
Art with a Purpose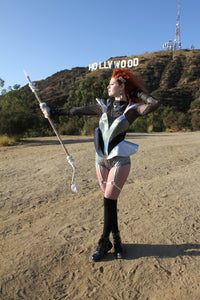 Artist/Inventor: Apolla Asteria
Apolla began creating Shaman Spears after a lifetime of experience in energy healing modalities. Her inspiration was her fascination with forbidden archaeology, archaetypes and ancient mythologies. Apolla is a Speaker in the UFO/Disclosure conference community, the host of Apolla's Odyssey Youtube Channel, and an actor/musician working in the entertainment industry in Los Angeles.
Visit www.apollaasteria.com for more details.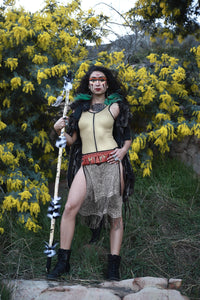 Weilding your Shaman Spear
Besides being a tool for energy healing modalities, Shaman Spears have many other uses. They can make a great centerpiece for your home, just hang on hooks from your wall! Wielding a spear while hiking is a favorite of the artist as it is an amazing way to interface with your energy. Also, they are perfect for festivals!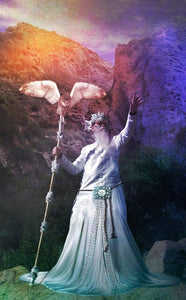 Ancient Future
The goal of Shaman Spears is to bring the lost technology from ancient civilizations back into the modern era. The idea is derived from the mix of a spear and a scepter.
The Ultraviolet Collection
Shaman Spears Warrior Staff Collection
Intergalactic Gladiator Headdresses
Space Cowboy/Cowgirl Hats
Orgonite Goddess Bracelets